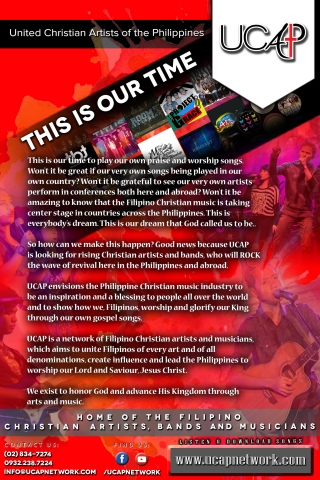 Who among us doesn't know the song "Mighty to Save" by Hillsong or "Nothing is Impossible" by Planetshakers? These are some of the Filipinos' most favorite Christian bands of this generation. From sold out albums, jam-packed concerts in Araneta and most played songs in our worship services, life groups, and even in our church conferences, we would always hear songs from these group or other international Christian band taking centerstage.
We can definitely play their songs and easily catch their lyrics because Filipinos are rich in great talents and I believe that we can do that as well with the gifts God has given us. This is our time to play our own praise and worship songs. Won't it be great if our very own songs being played in our own country? Won't it be grateful to see our very own artists perform in conferences both here and abroad? Won't it be amazing to know that the Filipino Christian music is taking center stage in countries across the Philippines. This is everybody's dream. This is OUR dream.
So how can we make this happen? Good news because UCAP is looking for rising Christian bands, who will ROCK the wave of revival here in the Philippines and abroad!
UCAP envisions the Philippine Christian music industry to be an inspiration and a blessing to people all over the world and to show how we, Filipinos, worship and glorify our King through our own gospel songs!
Now you can support and download new songs of Filipino praise and worship to play and listen to. Also available for free download on our official Youtube channel with free lyrics and chords just visit and subscribe www.youtube.com/UcapNetwork
And for inquiry and more information on how to join us and become UCAP artists. This is the time to send-in your original compositions and we will help you with your album productions!
You may contact us (02) 834.7274 or 0922.837.3324 or email info.ucapnetwork.com